Supersonic Air Knife Tools
The Supersonic Air Knife line of tools provides a complete solution for non-destructive excavation of buried objects. The suite of Air Knife tools includes the X-LT for low profile everyday jobs and diagnostic work, the X-ST2 for those arborists who like to use and abuse their tools, and the X-HFA designed for use on large or high volume jobs and heavily compacted soils.
Liquid Injection System tools, including the X-HFL and the X-LTL, are an extension of the Air Knife family. These tools are specially designed for high air volume liquid injections of water, liquid fertilizer or compost tea into the soil. Rate of liquid volume dispensed is easily controlled by the operator. This line of tools is also ideal for use in dust control and bare root tree transplanting.
The Supersonic Air Vac tool is a hand held vacuum tool powered by a standard (H1) or larger (H2) compressor. Ideal for the excavation of loose soil, stones (< 2.6 in) and water.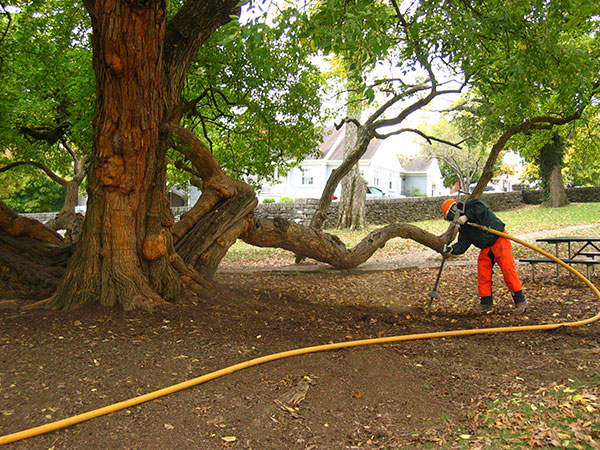 Dave Leonard performing a root zone enhancement for the Ft. Harrod Osage Orange
For more information about any of the knives, visit a link below