Supersonic Air Knife – Model X-LT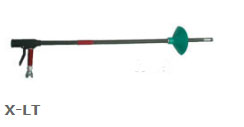 In my 43 years of business I have done my best to keep up with the latest research on tree care. I have also looked for the best tools to serve my client's needs. On these pages I am sharing information about a tool I have found that makes a significant difference in the way I care for trees.
An aluminum barrel makes this tool light and easy to work with. Great for diagnostic work and root collar excavations. Our best seller for all around use. Requires a 185 CFM compressor which usually rents for about $100 a day.
| Model | Price | Weight | Materials | Compressor Requirements | Includes |
| --- | --- | --- | --- | --- | --- |
| X-LT | $1700 | 5.5 lbs | Aluminum | 100 PSI / 185 cfm | Light-weight aluminum barrel and valve. |
X-LT Travel Kit
For consulting arborists, or those with far-flung clients. This X-LT Air Knife has a 2-piece barrel that disassembles for compact travel. It includes 25 feet of 1″ I.D. light weight hose all packed in an aluminum case. Can travel by air as checked luggage.
| Model | Price | Weight | Materials | Compressor Requirements | Includes |
| --- | --- | --- | --- | --- | --- |
| X-LT Travel Kit | $2100 | 19 lbs | Aluminum | 185 cfm | X-LT with break-down barrel, coupling, aluminum briefcase and 23' 1" air hose |