Paris, Kentucky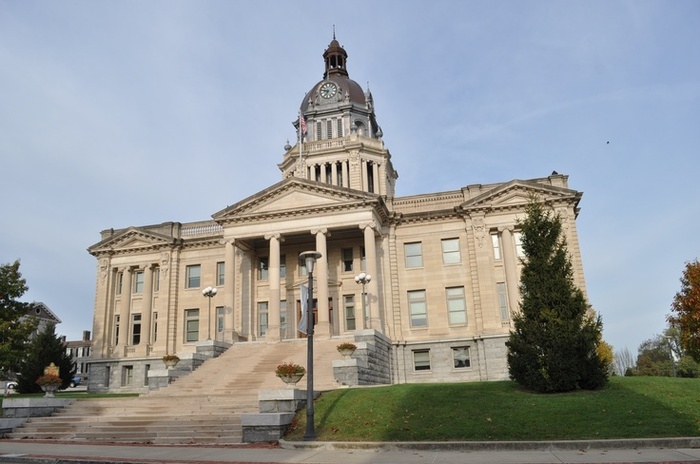 "Horses, History and Hospitality" is the motto of Paris Kentucky, nestled among the astonishing beauty of horse country and the rich fertile agricultural and livestock farmland. The small town charm of Paris KY is enhanced by an impressive collection of historic early buildings with various styles of architecture which the residents of zip codes 40361 and 40362 and city Paris diligently preserve. The town of Paris was named for the famous city of the same name in France. And the county in which Paris Kentucky is resides, Bourbon county, was named after the French ruling family known as the "House of Bourbon". Both were named by the citizens of Paris Kentucky to honor the assistance of France during the American Revolutionary War.
The Paris, Kentucky Tree Service Professionals
At Dave Leonard Tree Specialists we are very passionate about trees! Dave Leonard Tree Specialists has spent years earning a reputation as one of Paris, Kentucky's most professional and affordable tree service and organic lawn care companies. From tree planting, tree pruning, tree trimming, tree removal, tree insect control and tree disease services to full commercial tree services. In business since 1974, Dave Leonard Tree Specialists is Paris, Kentucky's one call solution for all of your tree care needs.
Paris, Kentucky Tree Trimming and Tree Pruning Services
Tree trimming, commonly referred to as 'Tree Pruning' by arborists, is a specific and targeted process that, when done correctly, improves the health, beauty, and safety of your trees, prolongs life of the tree, and works to allow the tree to better fit into its space in the urban, suburban, or farm environment. Through tree trimming, the shape of the tree is enhanced, and limbs can be raised to a clear height. Tree trimming also removes dead, dying or diseased branches which helps the tree maintain its structural integrity in a storm. Call Dave Leonard Tree Specialists today for a free estimate on pruning your Paris, Kentucky trees
Paris, Kentucky Tree Removal Company
If you are looking for a reputable and affordable tree removal company in the Paris, Kentucky area, then you have come to the right place! Trees that are decayed, or dying, or already dead may be more prone to fall during extreme weather conditions such as high winds. It is important for customers who have these types of potentially dangerous trees to take preventative action to have them assessed by a knowledgeable and honest ISA Certified Arborist or Certified Tree Risk Assessor. Dave Leonard Tree Specialists can help you with any tree removal, large or small. Our friendly and professional tree specialists have the skill and equipment to perform your tree removal safely and efficiently . We can also perform stump removal with your tree removal. Stump Removal will prevent a unsightly tree stump on your property.
Emergency Tree Service For the Paris, Kentucky Area
If you have lived in the Paris, Kentucky area for at least a few years you have realized that we have our own brand of weather. From ice storms, to severe thunderstorms, to remnants of a hurricane Ike which gave us 85 mph winds on a sunny day in 2008. Dave Leonard Tree Specialists offers 24-hour emergency tree service in the event that a storm hits and causes damage to your tree. Give Dave Leonard Tree Specialists a call and our emergency tree service team will come out and survey the damage. Our Paris, KY tree service team will give you an affordable estimate. And when approved we will remove your damaged tree and debris quickly and safely. For emergency Service Click here
Organic Lawn Care Service in Paris, Kentucky
The toxic chemicals used in traditional lawn care services can poison wildlife and pets, while also working to sterilize the soil, making continued synthetic fertilizer and pesticide use a vicious cycle needed to maintain an appealing lawn. Excess chemicals run off the soil and into your streams and local water supply. With our organic lawn care program, we will make your soil work for you instead of against you. This means that you will have a safer, lusher, thicker, and more beautiful lawn without chemicals, that will make your neighbors envious. click here for more information
Emerald Ash Borer Treatment in Paris, Kentucky
Emerald Ash Borer (EAB) is an exotic beetle that was came into the United States from Asia via cargo ships. In the 10 years since the Emerald Ash Borer was first discovered, tens of millions of ash trees have been felled, and entire towns have lost an important species of tree. Now is the time to learn about this insect and to take the steps necessary to protect your Paris, KY ash trees from devastation. Click here for more information onEmerald Ash Borer.
View Planning and Tree Maintenance
Trees do not have to obstruct a beautiful view. With proper care and management, they can remain part of your landscape while framing a breathtaking view. At Dave Leonard Tree Specialists, our Arborists create and expand lines of sight with a careful tree pruning plan. It's our goal to preserve the natural form and beauty of your trees, as well as your beautiful view. We also offer annual tree care programs, to prevent problems with your trees and mitigate any tree issues that currently exist. Click here for more information.
Whats an Aborist and Why Do I Need One?
Arborists are specialized in the care of individual trees. They are extremely knowledgeable about the needs of trees, and are trained and well equipped to provide exceptional care for the health of trees. Proper tree care is an investment that can lead to substantial returns. Well cared-for trees are beautiful and can add considerable value to your property. identifying tree diseases and tree insect issues is another area of Arborist expertise. Poorly maintained trees can be a significant liability. Pruning or removing trees, especially large trees, can be dangerous work. Tree work should be done only by those trained and equipped to work safely in trees.
Dave Leonard Tree Specialists's arborists provide our clients with the tree industry's best service, from diagnostic skills to proper tree pruning and proper tree planting, our clients get to work with an ISA International Society of Arboriculture Certified Arborist from initial consultation to job completion. We take pride in providing the most knowledgeable, honest, safe, and efficient service. Our team at Dave Leonard Tree Specialists consists of: Board Certified Master Arborist, ISA Certified Arborists, Certified Tree Risk Assessors, ASCA Registered Consulting Arborist.
Paris, Kentucky Services include:
Tree Trimming
Fully Insured
Certified Arborists
Air Spade
Residential Tree Care
Commercial Tree Care
Air Knife Sales
Tree Pruning
Tree Planting
Soil and Root Improvement
Tree Removal
Plant Health Care
Tree preservation
Tree Insect Control
Tree Disease Control
Emerald Ash Borer Treatment
Tree Cabling
Tree Bracing
Organic Lawn Care
Organic Fertilizer and Compost Tea
Annual Tree Programs
Free Estimates
24-Hour Emergency Tree Service