C.AR.E. Club - Ongoing Tree & Shrub Care Program
C.AR.E. Club- our ongoing tree and shrub care program - is for clients with trees and landscapes that deserve or require annual attention from our knowledgeable arborists.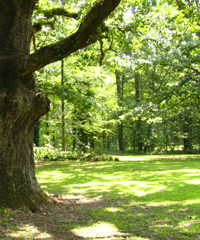 Many of our great clients have important specimen trees, or highly valuable landscapes, that require proactive annual care and monitoring. C.AR.E. Club allows for us to set up a custom program that focuses on your specific situation - whether it be for one specimen tree or 100 acres of trees - without the need to call each and every time there is a concern. Rest easy knowing that your trees and shrubs are receiving the best care available. Each program is tailored specifically to your property.
C.AR.E. Club members have a specific ISA Certified Arborist on-call. Programs are made up of the following items, as needed:
Tree, Shrub, and general landscape health inspections at timed intervals through the year
Application of Liquid Organic Fertilizer and/or Compost Tea to promote plant health (link)
Treatment of Insect and Disease pests as they may arise
Proper pruning of trees and shrubs
Priority 24/7 response for storm related emergencies