Tree Preservation Services
Preserving the trees of the Bluegrass is central to our company mission. The majority of our services - from tree pruning to pest management to soil improvement - all play a key role in preserving and enhancing the health of trees that are suffering from a variety of ailments. A few specific categories of work that we perform, however, are directly related to whether or not a tree is preserved, allowing it to be enjoyed by future generations.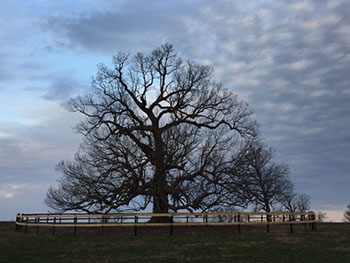 Development and Construction Planning
Important tree-related decisions during development and construction can have a significant impact on the success of any project. For the desired end goal to be realized, these decisions must involve an arborist experienced in every aspect of the construction process, who should be a part of the development team during the planning and construction phases.
Ways that we can assist during the development and construction process include:
Analysis and GIS mapping of existing trees for health, structure, form, site impact, species, and size
Determination of potential construction impact based on surveyed tree information
Identification of potential conflicts and suggestion of adjustments to construction plans to facilitate tree survival
Recommendation of preservation, transplanting, or removal
Review of construction procedures to identify potential Plant Health Care applications to enhance tree survivability
We welcome the opportunity to review your project and provide effective solutions. Our goal is to make your job easier by resolving complicated tree-related issues, often saving you time and money in the process.
Lightning Protection for Trees
There is no reason to lose an important tree due to lightning strike. Trees are struck far more often than other objects, in part because of their height, but also because of their moisture content. Central Kentucky is home to a great number of historic and valuable trees on residential properties, commercial properties, universities and estates. Professionally installed lightning protection can provide both protection and peace of mind.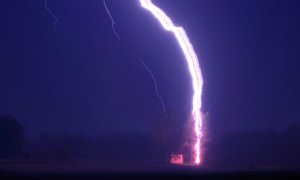 FAQ: Is my tree a candidate for a lightning protection system?
If your property has trees that are historic, very tall, or placed in close proximity to buildings or structures, then you may want to consider lightning protection. Although it may be impractical to install lightning rods in all of your trees, you can narrow down the list of trees that must be protected by considering: 1. The species of tree - some trees are more or less susceptible because of their unique characteristics. 2. Height of the tree and its proximity to your home - would a lightning hit to your tree endanger your family or damage valuable property?
FAQ: What if my tree has already been hit by lightning?
Call us to schedule an ISA Certified Arborist to fully inspect the tree as soon as possible, preferably while the wounds are still fresh. Depending on the extent of the damage, it may be necessary to remove at least the portions of the tree whose structural integrity have been compromised. Damaged and stressed trees are also susceptible to opportunist pests such as the ambrosia beetle, so preventative treatments may be warranted. Large trunk wounds take a very long time to heal, so a compost tea or organic fertilizer program is also recommended to increase tree vigor.
Tree Cabling and Bracing
Cabling and bracing is a method employed to extend tree life by improving the structural stability of a tree. In many cases some combination of cabling, bracing, and pruning makes an otherwise structurally defective tree safe enough to remain standing. Not every tree is a candidate for cabling and each tree will need to be evaluated to determine if cabling would be beneficial.
FAQ: Why is my tree failing?
A: Trees often fail due to poor structure which begins when a tree is young. Problems such as a tightly crotched branch union with included bark will often lead to failure as the tree grows and reaches maturity.
FAQ: My tree is splitting, what can I do?
A: A combination of support cabling, bracing, and weight reduction pruning, as prescribed by our arborists, may provide your tree with the additional stability to retain the tree.