Tree Removal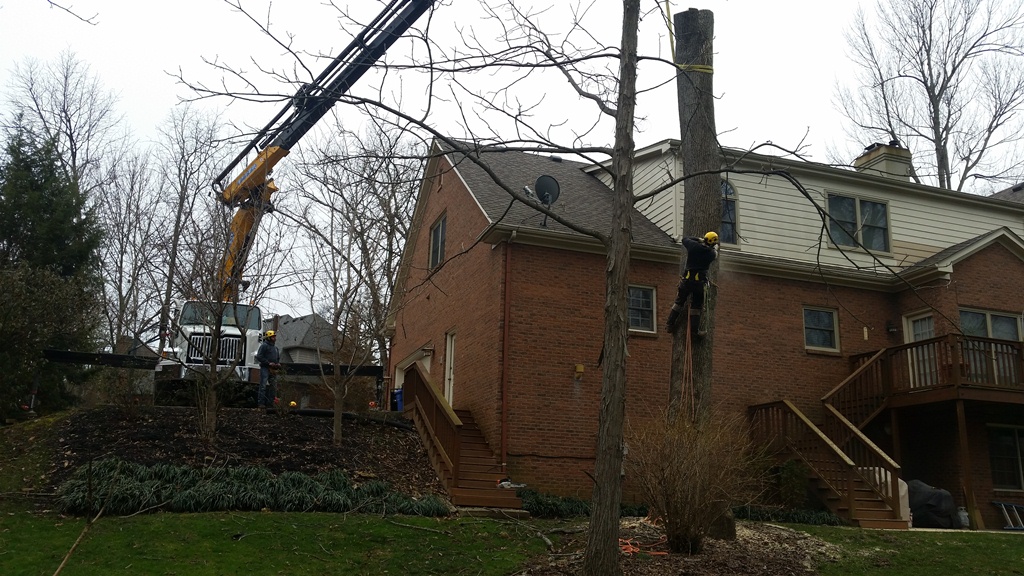 We value trees and strive to protect their health and vigor whenever possible. The reality, however, is that dead, dying, storm-damaged or diseased trees may have weakened structures that could pose a threat to you, your home, and your property. Much of old Lexington has an aging population of large Pin oaks and other trees that are widely declining and dying. When a tree removal is warranted, Dave Leonard Tree Specialists has the best personnel and specialized equipment to complete your job safely, efficiently, and with minimal disturbance to your property.
All tree removal work is quoted in a detailed proposal that is immediately emailed or texted to the client.
Every tree removal situation is different, so there is no standard pricing that can be given without having one of our arborists on-site to evaluate the situation. Depending on the situation, tree removal projects can best be completed with manual climbing arborists, bucket trucks or aerial lifts, or with cranes. Our consultants evaluate the situation to help determine the method of removal in order to complete the job most safely, efficiently, and with the least amount of impact to your surrounding property.
Crane Assisted Tree Removal - Zero Impact
Our specialty - the removal of large trees, or trees in difficult to reach areas, with minimal impact to your property. Our 65.5 metric ton articulating crane has 120' of boom reach and allows us to reach over houses, structures, landscape features, etc. to lift pieces of your tree out of your property. This unique process does attract onlookers from the neighborhood, but allows us to be quick and efficient and not impact your property in the process.
Tree removal is very dangerous work and should be performed only by highly skilled tree workers employed by companies with a deeply rooted culture of safety. Choosing a company to perform your tree removal is a serious decision that must be taken seriously so that you may differentiate between true professionals and those that may offer cut-rate pricing at the expense of inexact work that puts personnel and property at risk. Our crews are experienced professionals with many hours of experience in difficult removal situations. We will offer you the lowest price possible without taking unnecessary risks or doing inexact work.
Providing honest and knowledgeable Risk Assessment advice about the structural stability and risks associated with your trees is something that we take very seriously. You can rest assured that we will never recommend the unwarranted removal of a tree.
Tree Stump Removal
During the final stages of the tree removal process, the tree stump will be left cut as close to the ground as possible. Clients often want the stump to be removed, which we perform with a large diesel stump grinding machine. This is an optional service which will be included in a separate line item in your proposal.