Soil and Root Improvement
Tree health is all about Root Health. Root Health is all about the soil.
Healthy trees need healthy soil to thrive, but often we plant trees in yards and sites where the soil has been removed, compacted, and destroyed. If you have important valuable trees that are struggling, it is imperative the look at the physical structure of your soil in order to determine if it is the leading cause of decline or ongoing stress. The professional staff of ISA Certified Arborists at Dave Leonard Tree Specialists have the knowledge and tools necessary to mitigate existing soil problems, promote healthy root development, and enhance soil composition to give your trees the best opportunity for a long, healthy life.
Root Collar Excavation
Girdling roots are a common and deadly problem among trees planted in our urban environment primarily due to improper planting, mulching and poor soil conditions. Girdling roots are roots that grow to encircle the tree, restricting the vascular system, eventually dramatically weakening or killing your tree. Using the supersonic air knife we can expose and remove these damaging roots and ensure that your trees are left with an exposed root flare. This process reduces stress on the tree and allows the tree to thrive. The earlier in their growth stage that these roots are addressed, the better the chances for your tree to live to its full potential. Trees such as Red Maples, Sugar Maples, any container grown tree, or any tree planted too deep without a visible root flare are at a high risk of greatly reduced lifespan due to girdling roots.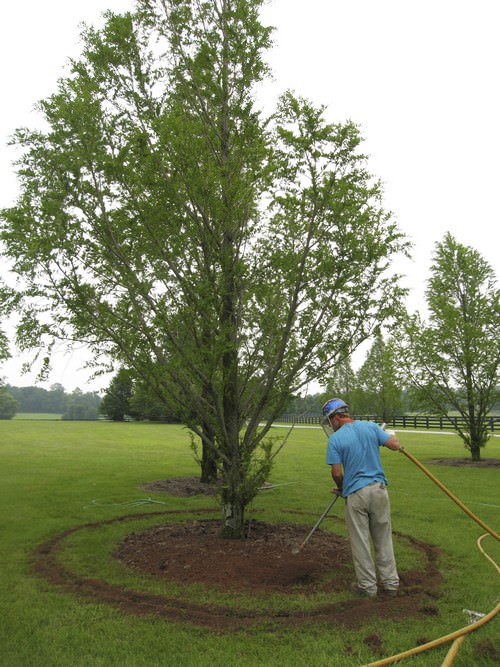 Root Zone Enhancement using the Supersonic Air Knife
Soil Decompaction & Vertical Mulching
Soil compaction is one of the most prevalent issues affecting the well being of urban trees. The most effective way to mitigate the problems caused by soil compaction is to increase soil porosity, providing roots with much needed oxygen and growing space. On sites where the preservation of lawn space is important, Vertical Mulching can be performed in order to decompact soils without enlarging the size of the planting bed. Vertical mulching breaks up layers of soil compaction, loosens the soil, adds porosity, and improves soil structure without compromising your lawn. Soil columns are backfilled with a compost / biochar blend to add organic matter and long-lasting carbon to the soil.
Root Zone Enhancement
The area known as the "root zone" extends 2 to 3 times beyond the drip line (canopy edge) of a tree. Rebuilding soil structure, augmenting soil with organic matter and biochar, and mulching to the edge of the drip line creates ideal conditions that encourage strong root growth and set the stage for increased vigor in your trees. Our ability to amend and improve the root zone for any tree in any soil is often the single best way to improve the long-term health of your trees.
Deep Root Fertilization
Deep root fertilization (also called liquid sub-surface fertilization) is a process that consists of injecting fertilizer directly into the soil for it to be absorbed by a tree's fibrous roots. Deep root fertilization prolongs your tree's life, promotes health, and provides preventative care. Our ISA-certified arborists use an organic-based fertilizer that is custom blended for the unique soils of the central bluegrass region that will provide all of the essential nutrients to the soil as well as a heavy dose of organic matter, in order to improve soil conditions and increase the fibrous rooting of your trees. This is key to promoting a healthy vigorous tree.